Get £5 Welcome Discount on your first order in Smartphone and Tablet category. Use CODE: WELCOME5 >Save £20 when you order 2 items. CODE: OTG20 Buy More Save More!
[close]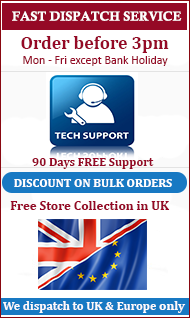 Model
Onda Obook10 64GB
CPU
Intel Cherry Trail Atom X5 Z8300 ,Quad Core ,1.84GHz , X86 architecture
OS
Windows 10 & android 5.1
RAM
4GB DDR3L
ROM
64GB eMMC
About ROM
The stated ROM amount shows the maximum available ROM with nothing installed. However, the Windows OS and pre-installed software from the manufacturer will occupy some of this ROM. The available ROM on the device will therefore be less than the ROM listed.
Screen
10.1 Inch IPS Screen 16:10
Resolution
1280x800 pixcels
Extend Card
Support micro SD Card up to 128GB
Camera
Front 2.0MP
Rear: Do not support rear camera
Bluetooth
BT4.0
3G or Phone Call
N/A,not supported
GPS
N/A,not supported
OTG
Yes
WIFI
Yes 802.11b/g/n 2.4GHz
TV-OUT
HDMI 1.4 Out put
Battery
6000mAh
Size
250x164x8mm
Language
English is default with Multitiple language option
Video
4K HF player (4096x2160)
Music
MP3/WMA/APE/WAV
Picture
JPEG.BMP.GIF.PNG
Extend Ports
1x Micro USB
1x 3.5 mm earphone jack
1xTF card slot
1xMicro HDMI port
1x 2.5mm DC jack
Package including
1x Plug, 1x USB Cable, 1x OTG Cable
Product Note:
We may occassionally open the original box to test the performance and quality of product to ensure you get fully working product. All our products are brand new with 1 Year Manufacturer Warranty
This device may have been provided with custom firmware or rooted. Any unauthorised alterations, upgrades, or flashing the device with other firmware will automatically void the device's warranty.
Product images are for illustration purposes only. The product sold may have minor physical differences depending on Manufacturer's specifications, production batch, etc. Customers should carefully consider this before purchase. T&C of Sales Apply
Customer Questions & Answers:
Question: How to switch between Windows and Android?
Answer: There are icons to switch to Windows or Android at start up. If you don't see it then turn off tablet and press Power and Volume + button simultaneously which will bring the option to select both OS. In Windows there is a green Android icon to switch to Android. In Android you will see an icon on left bottom. Clicking that icon will open another window to show Power Icon. If you click Power Icon it will show option to switch to Windows.
Customer Reviews
Best tablet I've brought in a long time, Affordable dualboot tablet with keyboard in good price is a really good deal. Light weight, easy to carry. Elegant design and fast 4GB memory. Charges in no time with new USB 3.0 cable. (Posted on 26/10/2016)
Just purchased Onda Obook 10 Tablet on discounted price and it came with Onda keyboard case too. It is dual OS with Windows 10 and Android 5.1 which allows me to use it for both personal and work purposes. Great device in a low budget. I would highly recommend it to anyone. (Posted on 17/10/2016)
Onda just released a new Dual OS Tablet Onda Obook10 with 10.1 inch screen which seems to be the alternative to their older Onda V919 Air 3G 9.7". I purchased Onda Obook 10 Tablet PC 2 days ago. It came with docking keyboard case which is quite handy. The screen is slightly bigger than Onda v919 Air. Much improved performance as compared to older versions however it does not support 3G connectivity. 6000mAh battery life is great and tablet lasts for around 6 hours depending upon what applications you use. Switching between Windows 10 and Android 5.1 is easy. Happy using it so far. (Posted on 24/09/2016)
Its a great release by Onda. Good performance and design. The docking keyboard looks very good, and the magnets pull the tablet flush with where it needs to be to connected. Removing and connecting the tablet to the docking keyboard is a frustration free experience. Battery life is also good (Posted on 22/09/2016)
| | |
| --- | --- |
| SKU | OTG 75 |
| Country of Manufacture | China |
| EAN | 6955669700270 |
| Brand | Onda |
| Condition | New |
| Model | Obook 10 |
| Operating System | Windows 10 + Android 5.1 |
| CPU | Quad Core |
| RAM | 4GB |
| Connectivity | Bluetooth + OTG + Wi-Fi + HDMI |
| Storage | 64GB |
| Screen Size | 10.1" |
| Colour | Gold |
| Front Camera | 2 MP |
| Back Camera | 1.2 MP |
| Resolution | 1280 x 800 pixels |
| SIM | N/A |
| Keyboard | Included |
| Battery | 6000 mAh |
| Bluetooth | 4.0 |
| Manufacturer Warranty | 1 Year |